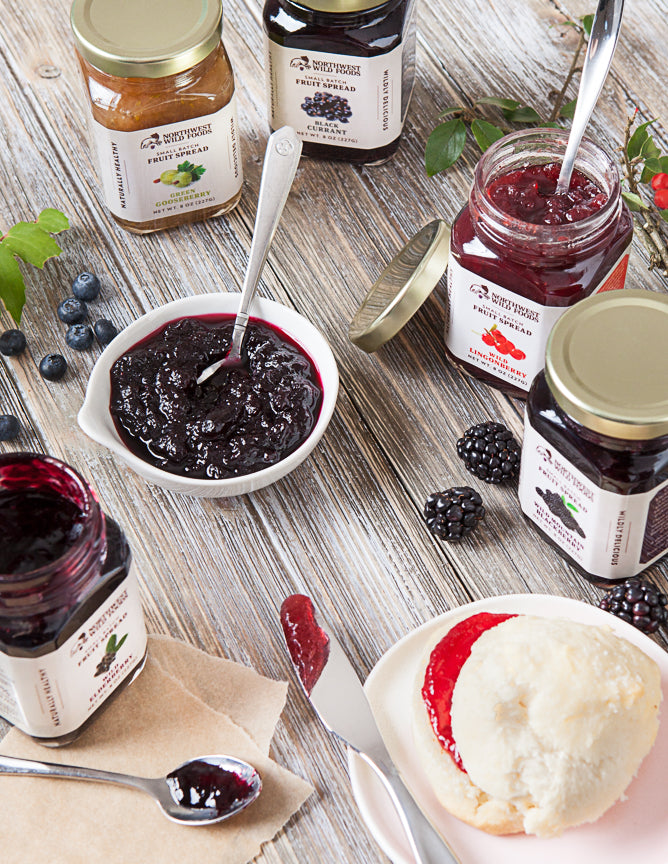 Wild Mountain Blackberry Fruit Spread
Try our Wild Mountain Blackberry fruit spread today!
Wild mountain blackberry fruit spread is made exclusively from little, wild mountain blackberries. The tart, intense flavor and small size of this little native berry makes it the perfect fruit for classic Northwest treat. Once you have tasted this treasure of the wild, we believe you'll agree with Northwest berry lovers who consider wild mountain blackberries the uncrowned king of all berries. This jam is an excellent balance of sweet and tart flavors both. It does have seeds however they are very minimal in size unlike a farmed blackberry.
Handpicked in the Pacific foothills of the Cascade and Olympic Mountains, our naturally organic wild berries are collected at the peak of ripeness. We hand cook our fruit spreads in small batches, adding just small amounts of pure cane sugar to preserve the fruit's delectable flavor. Enjoy our wild berry jams on toast or as a topping for ice cream, cheesecake, or any of your favorite desserts.
(8 oz Jars)
Ingredients: Wild Mountain Blackberries, Sugar, Fruit Pectin
---
FREE Shipping on orders over $125
Wild Mountain Blackberry Fruit Spread