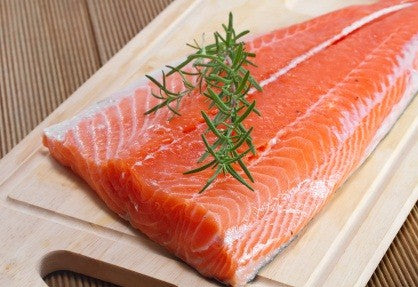 Wild Alaskan Silver Salmon Fillets
We now bring you our troll caught wild Alaskan silver salmon fillets directly harvested by line pole and prepared and frozen on board the boat for absolute freshness which showcases each fillet's natural flavor. Wild Alaska silver salmon may not be as large as king salmon but make no mistake; each fillet is packed full of flavor which takes a backseat to no other salmon known to the gods of great taste. Also known as wild coho salmon, silver salmon is milder with its subtle flavors than either king or sockeye salmon. Its flavor is often the most sought after of all wild salmon. Wild Alaskan silver salmon fillets are extremely rich in Omega-3s and vitamin D. Alaskan silver salmon is not only naturally healthy for you, but it is also packed with flavor you will enjoy time and again whether you prefer to BBQ or broil. Our flash frozen fillets are perfect for the whole family. We can assure you these wild Alaskan coho salmon fillets will be pure enjoyment. You will taste the difference!
**Our Wild Alaskan Silver Salmon fillets average 2 lbs. - 2.5 lbs. each.
**Serves 6-8 per fillet
** MSC Certified.
---
FREE Shipping on orders over $125
Wild Alaskan Silver Salmon Fillets