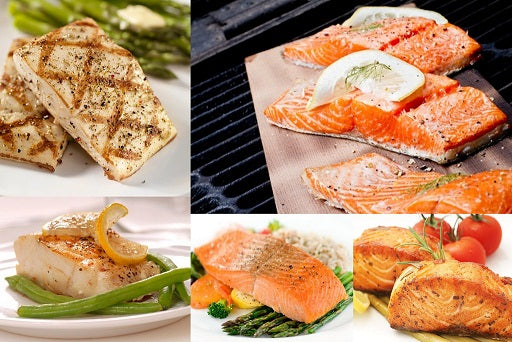 Wild Alaskan Seafood Sampler
Try our gourmet wild Alaskan seafood sampler today!
Our wild Alaskan seafood sampler is the perfect way to try a variety of our rich, delicious fish. All our fish comes to you freshly frozen from the wild ice cold waters of Alaska. Our wild Alaskan fish is processed, vacuum sealed and flash frozen immediately after it's caught to lock in the freshness and amazing flavor. Each of the different assortments of fish in this sampler pack come in 6oz boneless portions making them perfect for the BBQ, baking or frying. Impress family and loved ones with this plethora of delicious healthy fish. We recommend topping your fish with a tasty sauce made from our wild red or blue huckleberries for the ultimate meal. This sampler pack ships frozen straight to your door.
**Note: combination may change upon availability**
Includes:
2- 6oz portions Wild Alaskan King Salmon
2- 6oz portions Wild Alaskan Silver Salmon
2- 6oz portions Wild Alaskan Sockeye Salmon
2- 6oz portions Wild Alaskan Cod
2- 6oz portions Wild Alaskan Halibut
2- 6oz portions Wild Alaskan Black Cod

Health Benefits:
The American Heart association recommends eating fish at least twice a week as part of a healthy diet.
Did you know that farm raised fish are treated with antibiotics and pesticides. They are also known to contain contaminants such as PCSBs and dioxin which are toxic chemicals that stay in the body for years and are known to contribute to cancer. That's four reasons to eat wild caught fish!
Wild caught fish contain great amounts of omega 3 fatty acids which are important for heart health and work by helping lower blood pressure thus reducing the risk of strokes and heart attacks.
Wild fish is packed with a variety of beneficial vitamins and nutrients such as magnesium, zinc, potassium and iron.
** MSC Certified.
---
FREE Shipping on orders over $125
Wild Alaskan Seafood Sampler