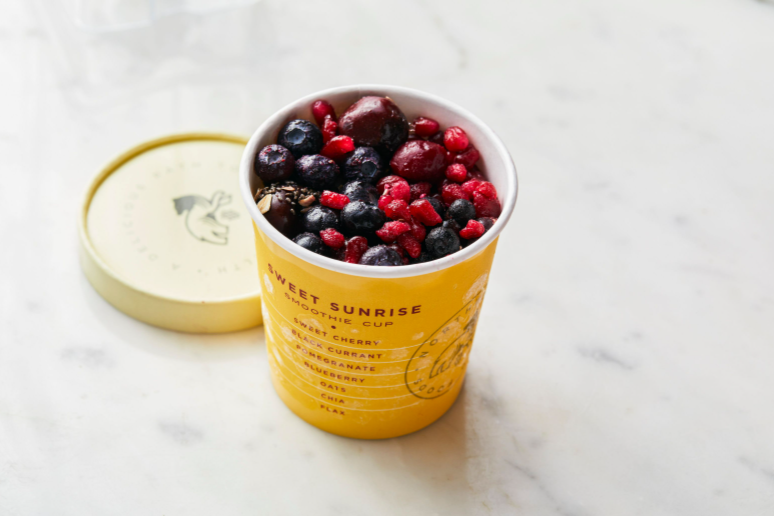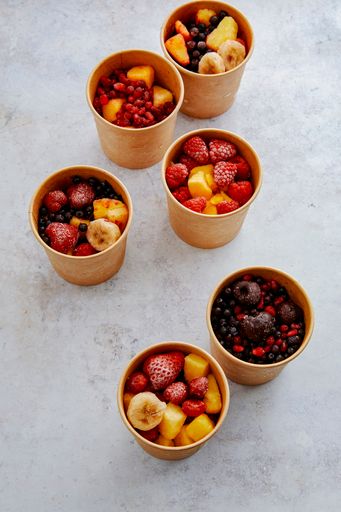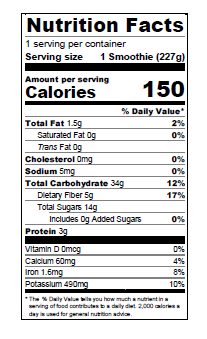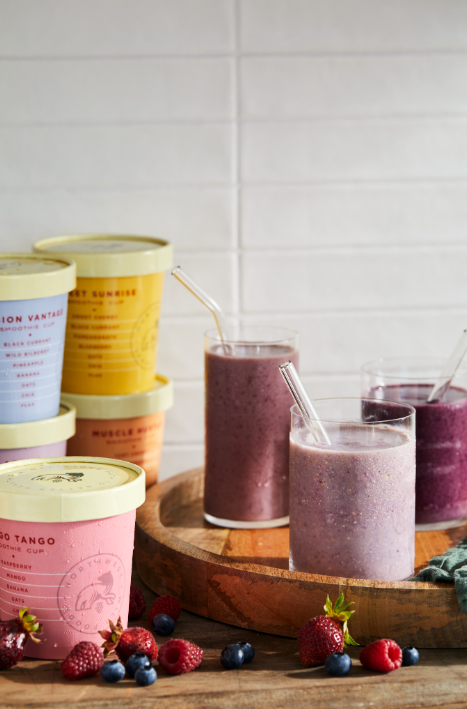 Sweet Sunrise Smoothie Pack
Try our sweet sunrise smoothie pack today!
Our sweet sunrise smoothies come packed with a powerhouse of antioxidant rich berries that are fantastic for helping start your day off right. Each cup includes chia and flax along with organically grown pomegranates, sweet cherries, black currants and blueberries that are hand picked at peak ripeness to ensure ultimate flavor and nutritional value. Simply fill your cup with your favorite liquid base (we love orange juice or almond milk – or both!) and blend until desired thickness (for a thicker consistency add a touch less and for a thinner consistency add a touch more). Then pour the contents back into your cup and replace the lid for a quick, easy and delicious snack for at home or on the go. Enjoy these smoothies first thing in the morning, as an afternoon pick me up or even as a healthy late night dessert. There is no wrong time to give your body the beneficial nutrients and antioxidants that it needs. Our frozen fruit smoothies leave you with more time each day to do what you need to get done. Shipped frozen straight to your door. Enjoy!
Each pack will include 6 x 16oz sweet sunrise smoothie cups.
Sweet sunrise ingredients: Blueberry, pomegranate, sweet cherry, black currant, oats, chia, flax
Health Benefits:
The anthocyanins found in blueberries help preserve vision and can slow vision loss.
Blueberries may help decreases risk of heart disease, diabetes and obesity.
Organic blueberries are known to help promote a healthy complexion and hair, increased energy, and overall lower weight.
Wild organic blueberries are an antioxidant rich super fruit and studies show may help prevent cancer-causing cell damage of the body.
Wild organic blueberries help protect the body and brain from oxidative stress and may reduce the effects of Alzheimer disease or dementia.
Pomegranate arils are extremely rich in antioxidants, tannins, quercetin and anthocyanins.
Preliminary studies show that pomegranate seeds may help inhibit breast cancer, prostate cancer, colon cancer and leukemia.
A study in the American Journal of Clinical Nutrition found that the antioxidants in pomegranates reduce the oxidation of LDL (bad) cholesterol.
Fresh frozen organic pomegranate arils are a great source of flavonols which act as an anti-inflammatory in the body and help reduce the symptoms of arthritis.
Tart cherries are an excellent source of vitamin C which is great for supporting a healthy immune system.
Cherries are also and fantastic source of fiber which helps support digestive health and encourages regularity.
Carotenoids, anthocyanins and cyanidin are powerful antioxidant compounds which may help prevent several types of cancer.
Research shows a connection between eating sweet cherries and the prevention of Alzheimer's.
Anthocyanin glycosides found in tartt cherries may provide anti-inflammatory properties, even against serious conditions such as gout, arthritis, fibromyalgia, or painful muscle-related sports injuries.
Organic tart cherries are an excellent source of melatonin which is known to have a calming effect on brain neurons and the nervous system, soothing irritability, insomnia, headaches, and even helping to establish regular sleep patterns for a happier, healthier you.
Organic black currants are known for their high content of vitamin C and potassium. They contain twice the amount of potassium found in bananas, 5 times the vitamin C in oranges and over twice the antioxidants in blueberries.
Currants contain anthocyanins that help in fighting against cardiovascular disease, aging, joint inflammation, eyestrain, urinary infections, kidney stones and even cancer.
New comprehensive study shows black currants can halt the spread of glaucoma. One group took the best drugs on the market and the other took black currants along with the drugs. Remarkably the black currant group showed no signs of the glaucoma spreading while the other group saw no improvements.
---
FREE Shipping on orders over $125
Sweet Sunrise Smoothie Pack