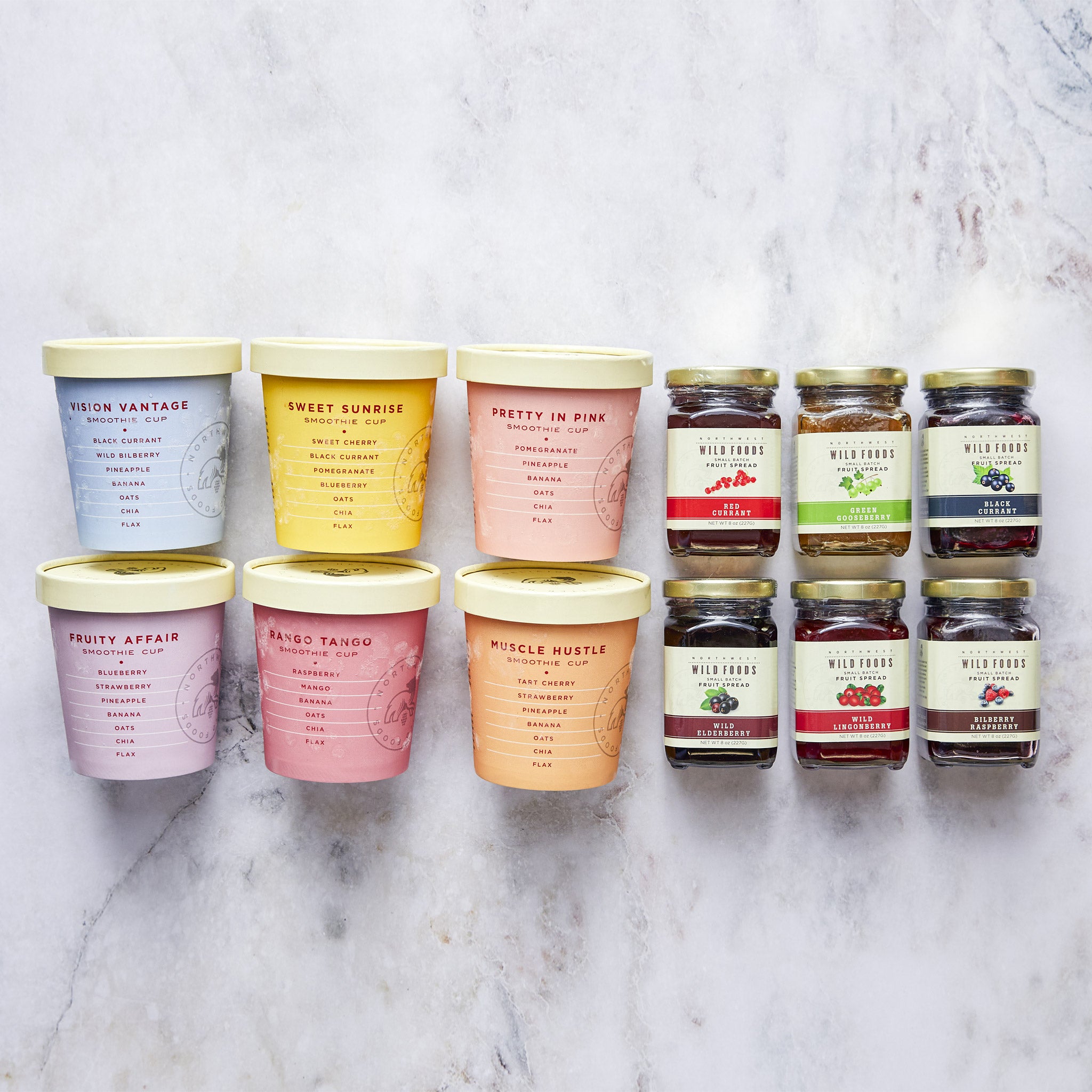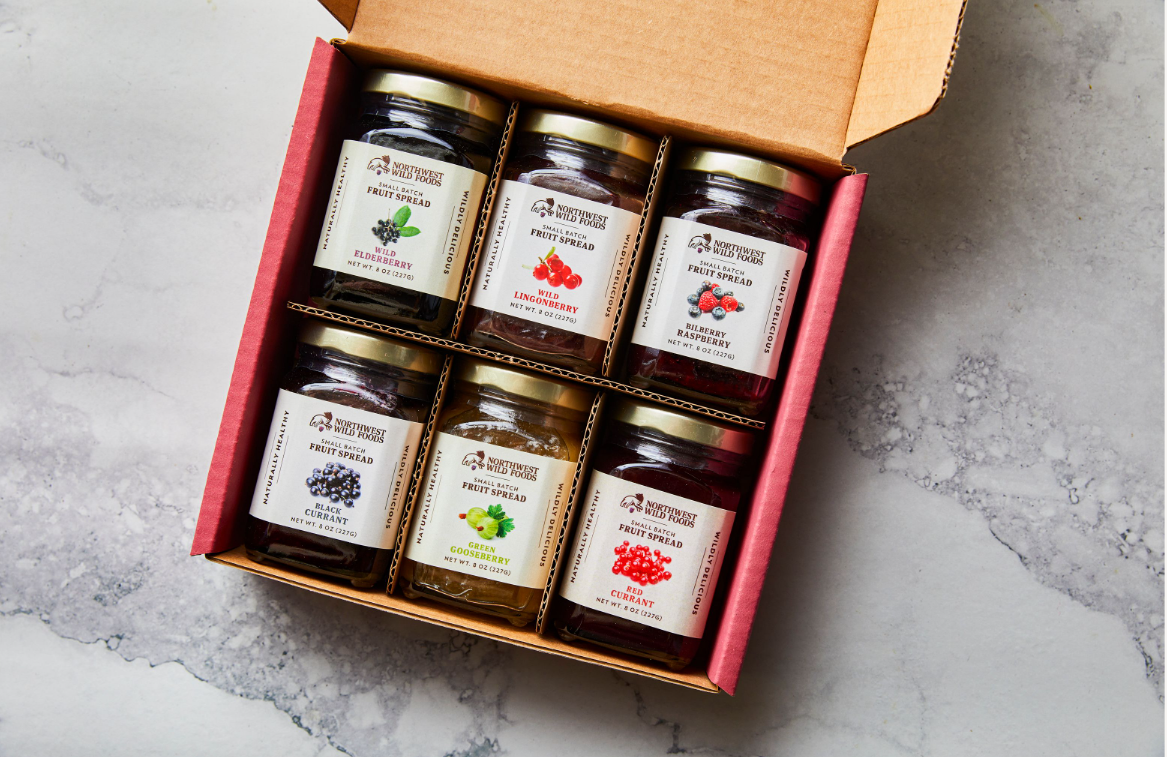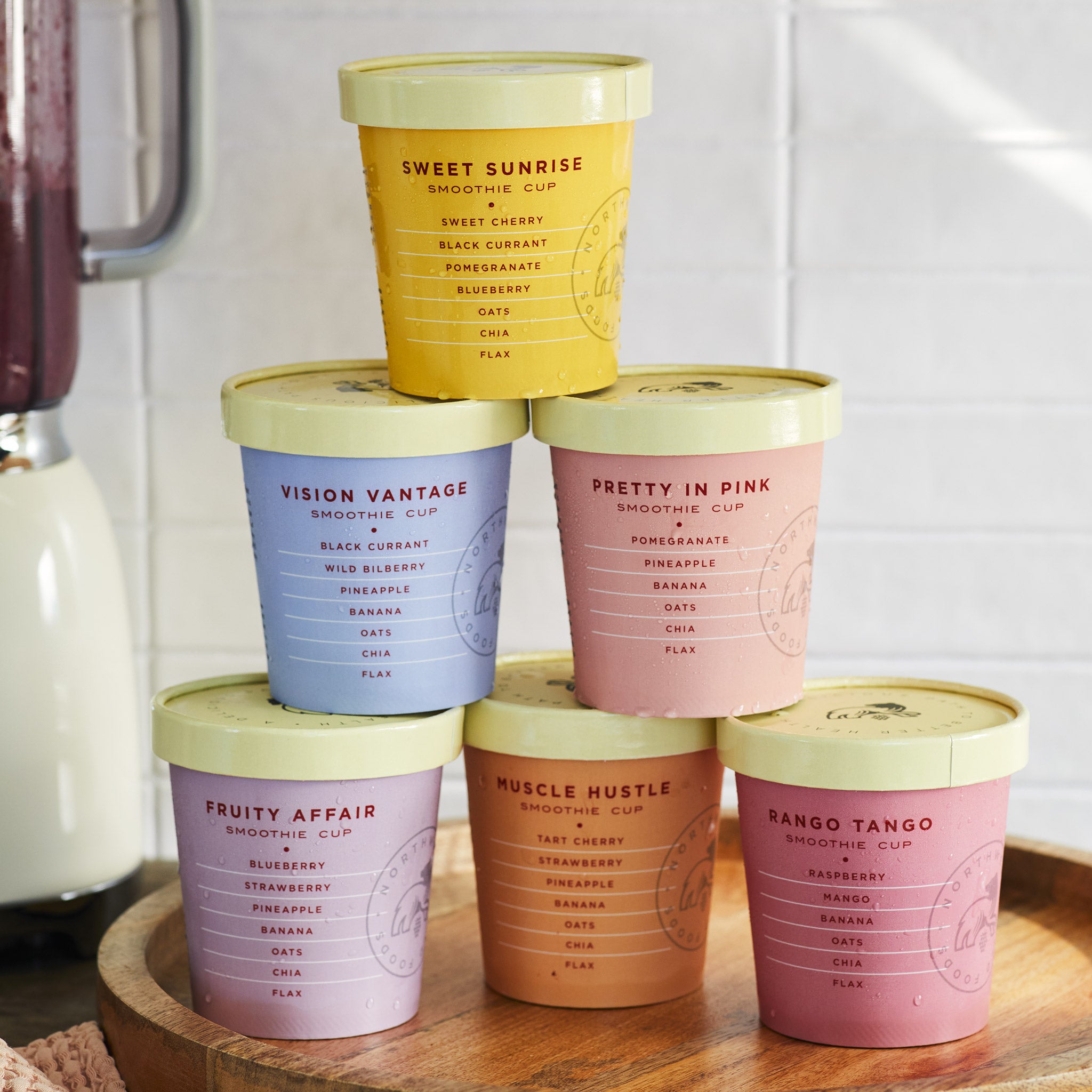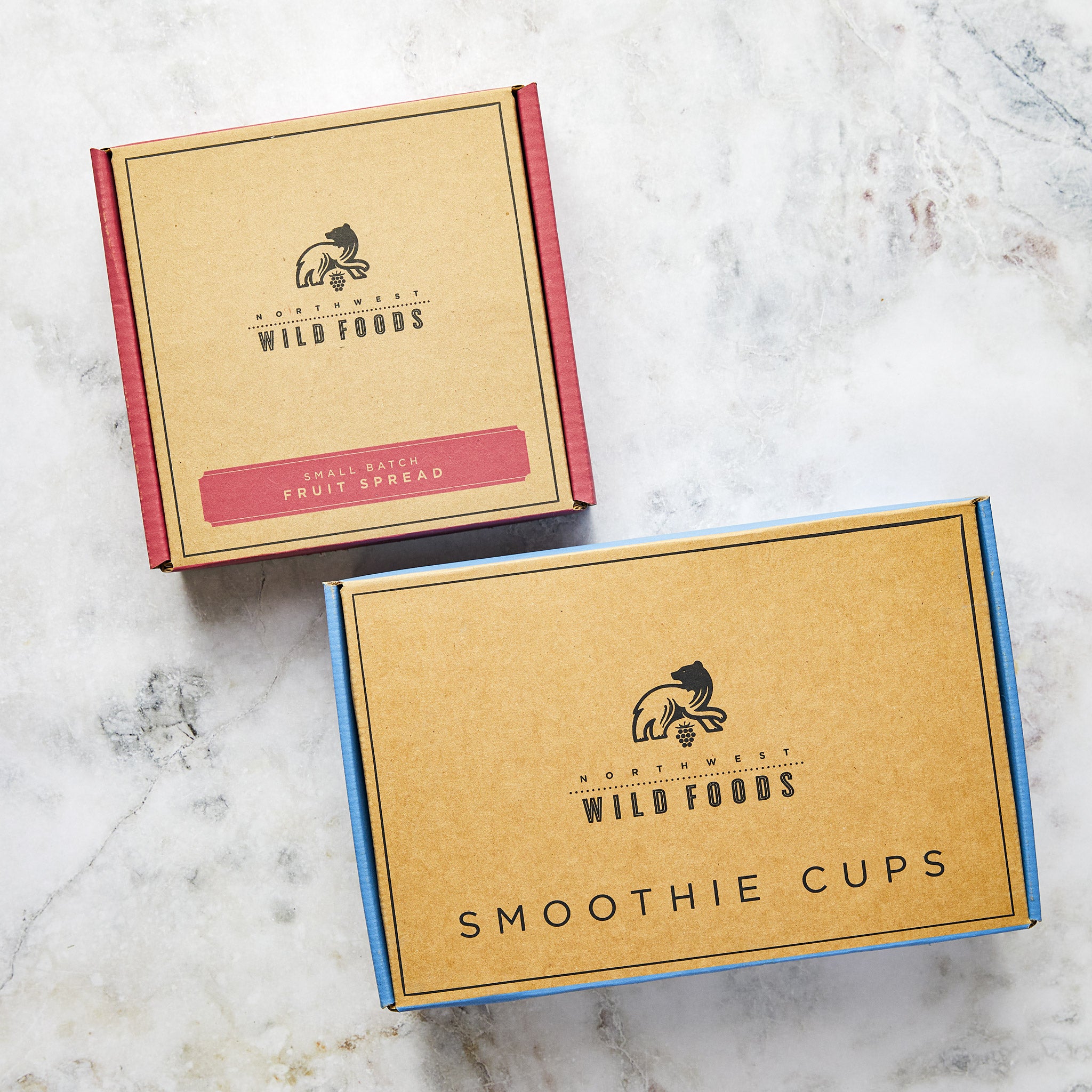 Treat yourself or friends and family to these two customer favorites. Simply choose the smoothie sampler or any one of our smoothie box flavors to be paired with our fruit spread variety pack. This is a great way to try our amazing berries, introduce a friend to our products, or send as a healthy gift.
Our delicious fruit spread variety pack is made with truly wild or organically grown fruit and contains half the amount of sugar found in a traditional jam. So, less sugar and more flavor for a healthier jam alternative. Each fruit spread is made in small artisan batches for ultimate flavor and quality. There is no wrong way to enjoy these versatile fruit spreads. Put a dollop on your baked brie, a spoonful on your dessert, a layer in your cake or spread some on your toast in the morning. Enjoy!
**Selection may change depending on availability**
Each pack includes 1 x 8oz jar each of:
Black Currant Fruit Spread
Red currant Fruit Spread
Green Gooseberry Fruit Spread
Bilberry Raspberry Fruit Spread
Wild Elderberry Fruit Spread
Wild Lingonberry Fruit Spread
 Our specially formulated smoothie cups are designed for flavor, health benefits and ease of use in mind. Simply remove the lid, fill your cup to the brim with your favorite liquid base (we love almond milk, orange juice, or both), then pour into your blender and blend until desired thickness. Pour the contents of the blender back into your cup and replace the lid for the perfect on the go snack. Delivered straight to your door. Enjoy!
Each smoothie sampler pack contains 1 flavor each of our 6 x 16oz cups.
You may also select a box of all one flavor. 
Store smoothie cups in the freezer for best results.
Flavors included:
VISION VANTAGE:

 

(organic pineapple, organic banana, wild bilberry, organic black currant, oats, chia, flax)
Help keep your eyes in tip top shape with this delicious blend of berries that are specially formulated to help promote eye health and stave off macular degeneration.
FRUITY AFFAIR:

 

(Organic strawberry, organic blueberry, organic pineapple, organic banana, oats, chia, flax)
Take a walk on the wild side with this tasty blend of berries that are brimming with antioxidants to help keep your immune system strong and healthy.
PRETTY IN PINK:

 

(Organic pomegranate, organic pineapple, organic banana, oats, chia, flax)
Try a taste the tropics with this zesty blend of antioxidant rich fruit that will fuel your body and help you start your day off right.
MUSCLE HUSTLE:

 

(Organic tart cherry, organic strawberry, organic pineapple, organic banana, oats, chia, flax)
Help your muscles bounce back after a workout with this special blend of berries that make a light, scrumptious and healthy treat.
RANGO TANGO:

 

(Organic raspberry, organic mango, organic banana, oats, chia, flax)
Get your taste buds dancing with this juicy and flavorful blend of antioxidant rich berries that will help you get your day going right.
SWEET SUNRISE:

 

(Organic blueberry, organic pomegranate, organic tart cherry, organic black currant, oats, chia, flax)
This powerhouse blend of antioxidant rich berry goodness is an excellent addition to your daily diet. Morning, lunch, afternoon or evening. There is no wrong time to enjoy a sweet sunrise!
---
FREE Shipping on orders over $125