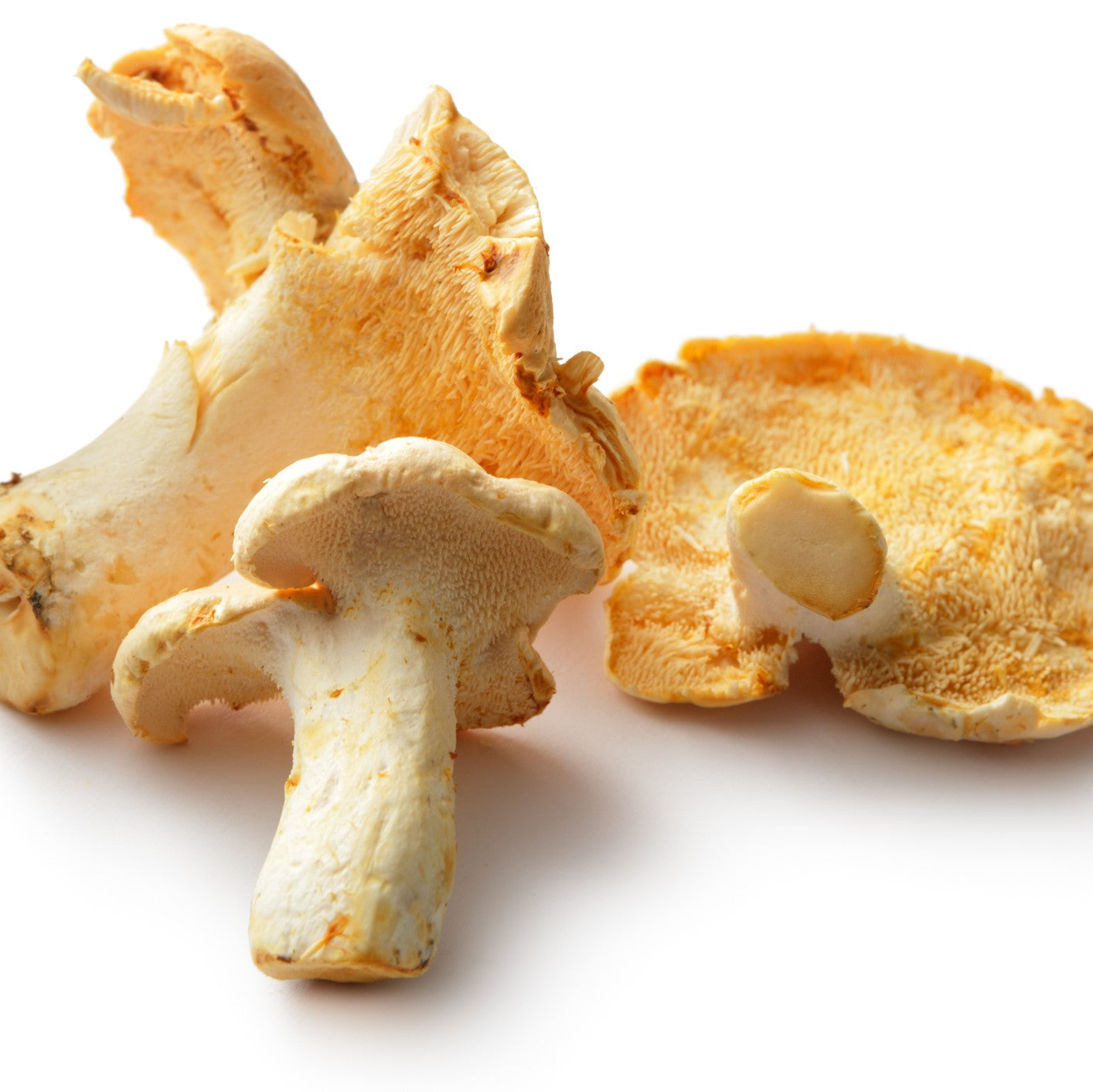 Fresh Wild Hedgehog Mushrooms
Wild hedgehog mushrooms, also known as sweet tooth or (Hydnum repandum), are delicious little treats of mother nature that grow wild in Europe, North America, as well as in parts of Asia. Ours grow wild here in the USA. They look similar to a chanterelle but instead of gills under the cap they have small cream colored spines and can range in color from yellow, to light orange to buff. They are typically found individually or in clusters in moist soils near streams or riverbeds and also grow near or on birch trees, beech trees, and some conifers. You can find them each year in late summer through late winter. Once cooked they have a meaty, chewy texture with a sweet, nutty, peppery and smoky flavor. These mushrooms taste so good that you don't have to do much to really bring out their flavor. We recommend giving them a slight stir fry with garlic, butter, salt and pepper then piling them on top of your steak or toast, but they also go fantastically into soups and stews. Enjoy!
Storage: Keep refrigerated in a paper bag or covered with a damp paper towel. Will last 7 to 10 days but best to eat promptly.
Cleaning: Simply wipe mushrooms with a damp cloth or rinse slightly
Cooking Suggestions: Sautee or boil
Health Benefits:
Hedgehog mushrooms are low in fat but high in protein.
They are also shown to potentially have anti-tumor and anti-microbial activity,
Mushrooms are a good source of B vitamins, protein, copper, potassium, zinc and selenium. All essential minerals to a healthy diet.
Mushrooms are extremely rich in vitamins and are excellent immune system boosters.
Hedgehog mushrooms mushrooms are also rich in dietary fiber and are low in both saturated and unsaturated fat. Dietary fiber helps stimulate digestion, relieving constipation problems.
The B vitamins found abundantly in wild mushrooms help the immune system, support nerve and heart health and help break down blood sugars in the body amongst other things.
---
FREE Shipping on orders over $125
Fresh Wild Hedgehog Mushrooms