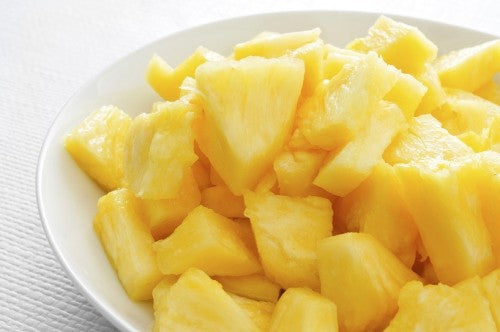 Fresh Frozen Organic Pineapple
Try our delicious Fresh Frozen Organic Pineapple!
Our fresh frozen organic pineapples are hand picked at peak ripeness; then skinned, cleaned, cut into chunks and frozen on harvest day to lock in their tantalizing sweet flavor and nutritional goodness. Our Fresh Frozen Organic Pineapple is grown sustainably in Costa Rica without the use of dangerous pesticide or chemical sprays that can seep into the fruit as well as the environment. so you can enjoy our pineapple chunks with a clear conscience! As well as being grown sustainably and organically, our fresh frozen organic pineapple Chunks are an excellent source of vitamin C, manganese, copper, vitamin B1, vitamin B6, dietary fiber, folate, and pantothenic acid; which help aid with immune function, bone, hair and vision health among other things. Historically, in North America, Europe and the Caribbean the pineapple became associated with ships returning from long voyages and hence became an emblem of welcome and hospitality. So the next time you have a gathering of family and loved ones be sure to serve up some pineapple with all that love!
Health Benefits:
Pineapples are extremely high in Vitamin C which helps aid in immune function and over all good health.
Pineapples are an excellent source of Manganese, a trace mineral which is important for energy production and bone health.
The high amounts of Vitamin C and other minerals may help ward off age related macular degeneration.
---
FREE Shipping on orders over $125
Fresh Frozen Organic Pineapple