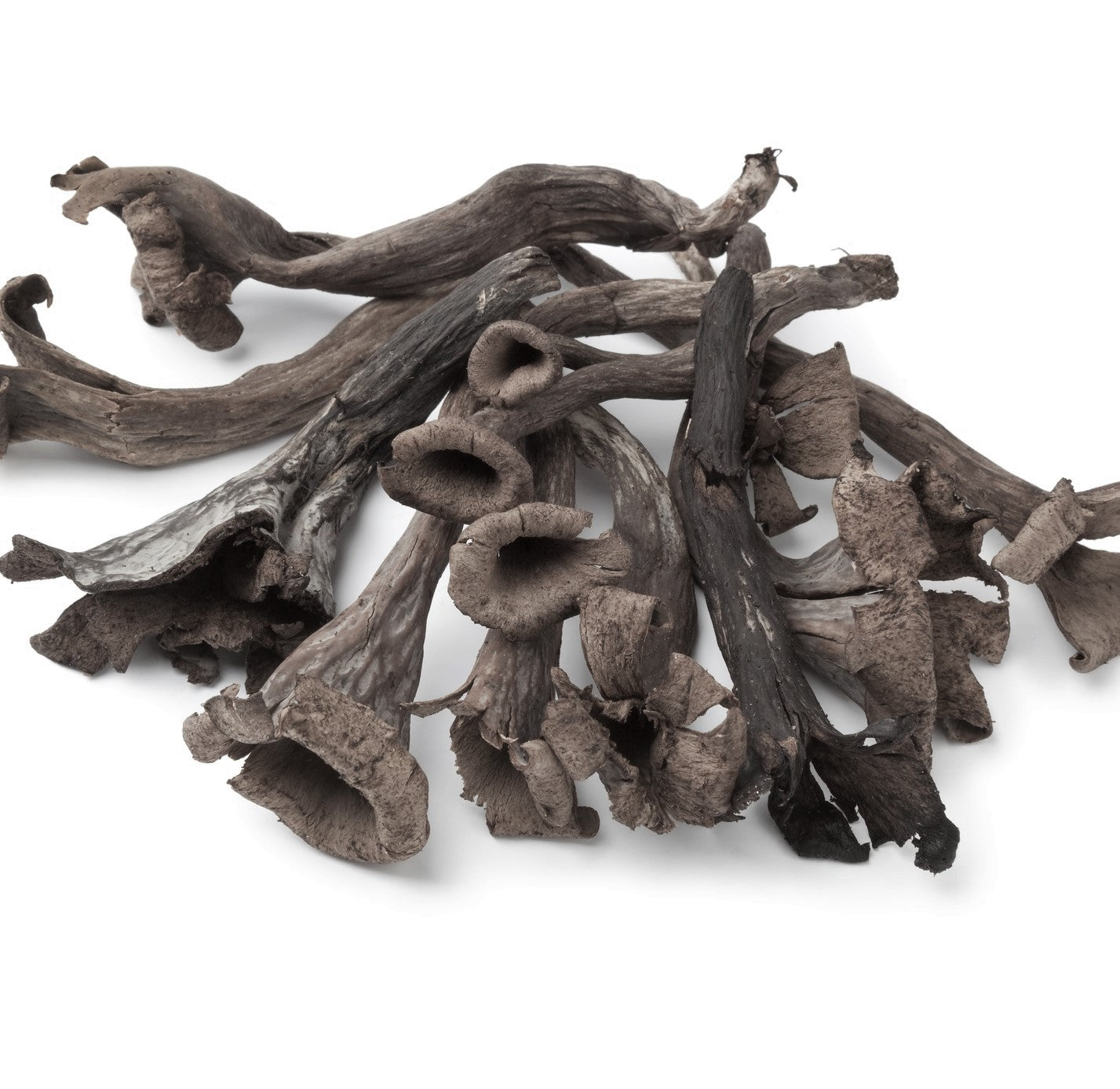 Dried Wild Black Trumpet Mushrooms
Our dried black trumpet mushrooms are harvested here in the Pacific Northwest each winter by our intrepid foragers. They are picked daily at peak ripeness in the foothills of the Cascade mountains and dried to perfection. Like chanterelles, they can be found growing near streams and rivers, in mossy moist areas as well as under beech and oak trees. Dried Black Trumpet mushrooms vary in color from brown, black, to grey. They are native to damp, temperate woodlands across North America, Asia, Europe, and Australia. Black Trumpet mushrooms (Craterellus cornucopioides), or 'horn of plenty' are a gourmet little known variety of edible mushroom harvested wild here in the USA. They are related to and shaped similarly to chanterelles. They are an earthy mushroom with robust, sweet, and subtle fruity notes, packed with flavor. Once re-hydrated, they are a perfect addition to enhance your cream sauces, pastas, stews or even add to eggs. You can pan sear them lightly with a little garlic and butter or you can go all out and make a yummy sauce for your salmon. You can also bake or fry them. These little gems of mother nature can be enjoyed in a multitude of ways.
Tips to use:
To re-hydrate place in warm water and let soak for 10-15 mins. After removing mushrooms, you can even use the water to add flavor to your favorite sauces. Prepare and enjoy!
Health Benefits:
• Black Trumpet Mushrooms contain large amounts of quality protein and fiber, which contribute to functioning of the body and intestinal tract
• Mushrooms are rich in Vitamin B, which supports brain health, energy levels and cell functioning
• Mushrooms are low in calories (about 15 calories per 3.5 oz) and recommended in weight loss and cholesterol reduction diets
• They strengthen the immune system with antioxidant properties and are an excellent source of essential amino acids
Storage: Keep at room temp in sealed bag for up to 2 years
---
FREE Shipping on orders over $125
Dried Wild Black Trumpet Mushrooms