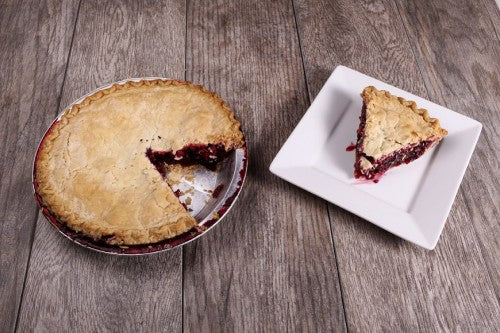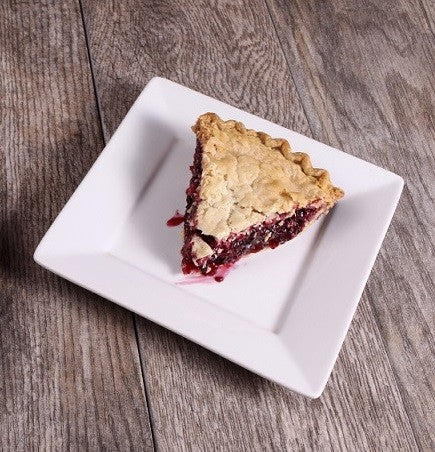 Try our hand made Boysenberry Pie! Boysenberries are a cross between a blackberry and a raspberry and have a deliciously natural, sugary and yet tart flavor that has been a Northwest favorite through the generations. Our boysenberry pies are artisan made fresh daily and come brimming with delectably sweet and tangy boysenberries that are grown right here in the rich, pure, and fertile soil of the great Pacific Northwest. With a rich, flaky and buttery crust our boysenberry pies have a charmingly rustic flavor that will fill your house with a succulent and mouthwatering aroma that is sure to leave everybody wanting more. Our pies are shipped frozen directly to your door and are conveniently ready to thaw and bake for a real and authentic taste that will remind you summer days spent in grandmas kitchen trying to get a slice of pie.
Size: 9 Inch deep dish pie with reusable pie pan
Servings: 8-10 slices.
Thaw Time: 3-4 hours at room temperature.
Total baking Time: 1 hour 10 minutes.
Cooling time: 60-90 minutes.
Baking Temps: 350-450'F
Baking Instructions:
Preheat oven to 450'F.
Cut 3-4 tiny slits in the top of the pie to let it breath during baking.
Brush one small well beaten egg wash over whole pie (optional).
Sprinkle with sugar packet provided (optional).
Place pie on cookie sheet. Place on center rack and bake for 20 minutes.
Reduce oven temperature to 350'F and bake for an additional 40-50 minutes.
Pie is done when it begins to bubble over and has a golden crust.
Remove from oven and let cool for 60-90 minutes.
Top with a scoop of vanilla ice cream.
Ingredients:
Filling: Boysenberries, organic sugar, cornstarch, lemon juice, organic cinnamon
Crust: Organic flour, unsalted butter, water, egg and lemon juice
---
FREE Shipping on orders over $125