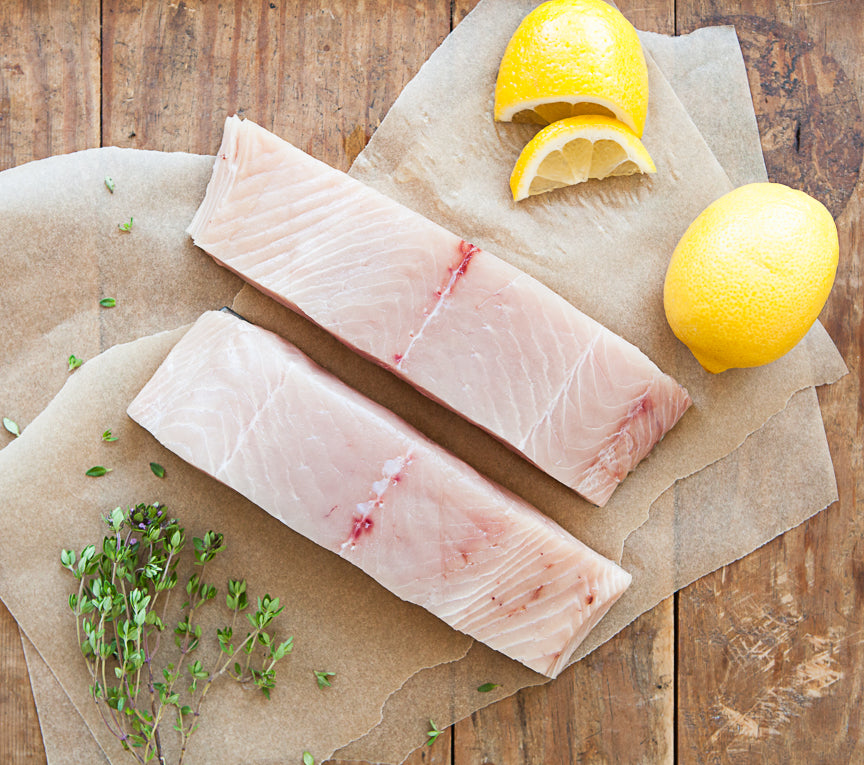 Wild Alaskan Ivory King Salmon
Try our wild Alaskan ivory king salmon today!
Wild Alaskan ivory salmon, aka white salmon, as the name suggests has a stunning translucent white color and a silky smooth texture that is sure to leave your taste buds singing. This Southeastern Alaskan delicacy comprises roughly 5 percent of the wild king salmon population and is fast becoming prized by chefs around the world for it's delicious buttery flavor and beautiful ivory shade. Traditionally the ivory salmon was thought to get it's color from consuming a diet with less carotene pigment in it. It has since been discovered that they posses a genetic trait passed down through the generations where the body has an extra enzyme to process pigment rather than absorb it. Our wild king salmon comes in 6oz boneless, skin-on portions making it the perfect quick and easy dinner. Wild Alaskan ivory king salmon is rich in oils/omega-3's which makes this fish more moist and harder to overcook than others. Simply let the fish thaw in the refrigerator overnight or in cold water for 30 minutes. We recommend searing the ivory king salmon slightly at first to lock in the moisture and then baking the fish to an internal temperature of 130 degrees. This is equivalent to a medium rare steak. The fish will continue to cook after it is out of the oven. Using the thermometer will ensure a moist and juicy salmon. We also recommend cooking fish of similar thickness or if not possible removing thinner pieces of fish before thicker ones if necessary. Our wild Alaskan king salmon is technically sushi grade so it can be eaten even more rare if you like. This is some of the finest salmon on earth!! Impress family and friends with a rare and delicious delicacy that will be the crowning glory of any dish. Enjoy.
Health Benefits:
The American Heart association recommends eating fish at least twice a week as part of a healthy diet.
Did you know that farm raised fish are treated with antibiotics and pesticides. They are also known to contain contaminants such as PCSBs and dioxin which are toxic chemicals that stay in the body for years and are known to contribute to cancer. That's four reasons to eat wild caught fish!
Wild Alaskan ivory king salmon contains great amounts of omega 3 fatty acids which are important for heart health and work by helping lower blood pressure thus reducing the risk of strokes and heart attacks. It may also help regulate heart rhythm which means a lower risk of developing an irregular heart beat.
Wild Alaskan king salmon is jam packed with a variety of beneficial vitamins and nutrients such as vitamins B6, B12 and D, taurine, omega 3 fatty acids, potassium and selenium.
**6-6oz Boneless/ Skin-on Portions.
**Sustainably Harvested in the USA.
** Premium Grade Wild Alaskan Ivory Salmon.
** MSC Certified.
---
FREE Shipping on orders over $125
Wild Alaskan Ivory King Salmon