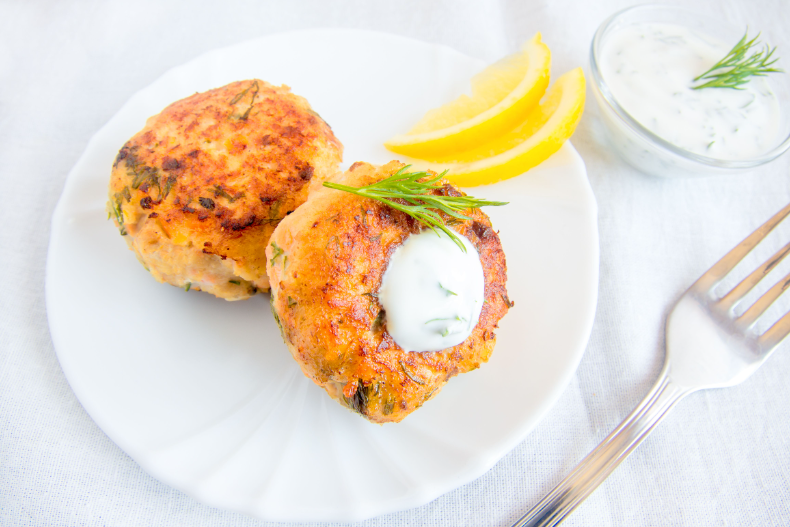 Wild Alaskan Halibut Burger Meat
Try our Wild Alaskan Halibut burger meat today!
Our Wild Alaskan Halibut burger meat is made from the finest halibut of the rugged, glacial waters of Southeastern Alaska in a region world famous for having the highest quality halibut. Caught with the use of long lines by some of our favorite old time fisherman, these fish can grow to several hundred pounds. We choose to limit our halibut size to around 40 lbs or less because those have the best flavor.  Extremely rich in omega-3 fatty acids, eating wild Alaskan halibut may help decrease the risk of an irregular heartbeat, while reducing triglyceride levels and slowing growth of plaque in the arteries. The fish meat itself is the sweet cut taken from the backbone after the halibut is filleted. Not only is ground halibut delicious and versatile to cook with, but it is also a healthy alternative to other meats such as beef or pork. Wild Alaskan halibut burger meat is versatile and can be added to any dish. Throw some in your scrambled eggs for breakfast, in your fish tacos for lunch or in your pasta for dinner. Our favorite way is adding some spices and bread crumbs for a delicious halibut burger. Once you eat the burger its hard to go back to beef. It really is that delicious!! Let's not forget that you can shape them into burger patties and grill the yummiest healthiest burgers! This tasty treat comes conveniently packaged in 1lb packages ready to cook. Shipped frozen straight to your door. Enjoy!
Health Benefits:
A 6oz serving of wild Alaskan halibut has roughly 36% of your daily recommended phosphorus needs. Phosphorus helps maintain everything from strong bones and teeth, to a healthy metabolism and higher energy levels.
With just one 6 oz serving providing 36% of your daily recommended intake for vitamin B6 and and 91% for vitamin B12, wild Alaskan halibut is a great choice for helping prevent cardiovascular disease, while promoting healthy neurological function, DNA production and normal brain function.
Wild Alaskan halibut is an excellent source of calcium which is an important building block to helping maintain both strong bones and a healthy heart.
With over 100% of your daily recommended amount of selenium, eating wild Alaskan skin On Halibut may help prevent certain cancers, defend against viruses and heart disease while helping ease symptoms associated with serious conditions such as asthma.
Feeling low on energy? Eating halibut is a smart way to boost your iron levels, which helps eradicate symptoms of fatigue due to iron deficiency.
**Each box contains two 1lb bags of burger meat.

**Does not contain preformed patties.
**Sustainably harvested in the USA.
** MSC Certified.
---
FREE Shipping on orders over $125
Wild Alaskan Halibut Burger Meat