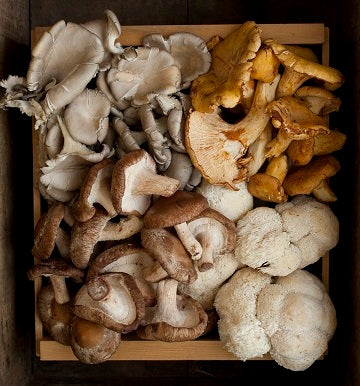 Our delicious chefs mushroom mix is an amazing combination of the finest organic and wild mushrooms the Northwest has to offer. In this basket you will receive the finest handpicked selection of 3 or more mushroom varieties that we have in season. This will be shipped overnight for maximum freshness. Our organic mushroom varieties include shiitake, oyster, lions mane or pioppini. Our wild mushrooms varieties include golden chanterelles, morels, lobster or porcini. Please keep in mind the wild mushrooms are seasonal and are not available all year. If you request a specific combination let us know and we will be happy to do so if available. We guarantee you will be happy with our delicious and healthy combinations.
May Include:
Shiitake
Grey Oyster
Golden Oyster
Lions Mane
Pioppini
Golden Chanterelles
Morels
Black Trumpet
Hedgehog
Maitake
Porcini
Lobsters
Storage: Keep refrigerated in a paper bag or covered with a damp paper towel. Will last 7 to 10 days but best to eat promptly.
Cleaning: Simply wipe mushrooms with a damp cloth or rinse slightly
Cooking Suggestions: Sautee, BBQ, steam, stems make a great stock base
Health Benefits:
Mushrooms are a good source of B vitamins, protein, copper, potassium, zinc and selenium. All essential minerals to a healthy diet.
Mushrooms are also a rich in dietary fiber and are low in both saturated and unsaturated fat. Dietary fiber helps stimulate digestion, relieving constipation problems.
The B vitamins found abundantly in wild mushrooms help the immune system, support nerve and heart health and help break down blood sugars in the body amongst other things.
---
FREE Shipping on orders over $125