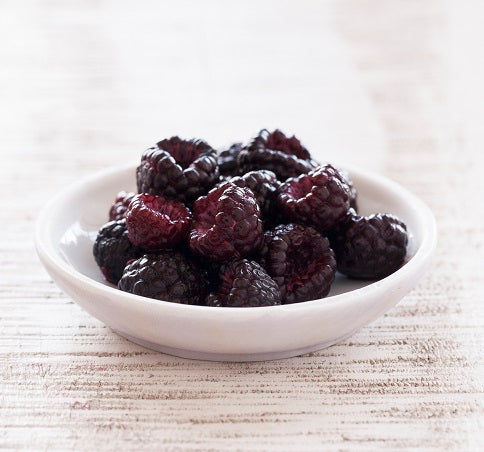 Fresh Frozen Black Raspberries
Try Our Fresh Frozen Black Raspberries today!
IN SEASON NOW!  Our fresh frozen black raspberries are harvested in the Northwest each summer and flash frozen at peak ripeness. Related to the more common red raspberry, black raspberries have a softer, sweet and mild flavor. Black raspberries are very popular for smoothies, pies, jams or by the handful out of the bag. Black raspberries are known to be high in anthocyanins, powerful antioxidants that provide exceptional nutritional value that may help ward of certain cancers. They are also being studied extensively for their health benefits for things like cancer prevention as well as lowering the risk of other diseases. Preliminary studies show black raspberries are amazing at fighting cancerous tumors in the body. Our fresh frozen black raspberries are extremely delicate so they may crumble slightly but they are delicious and healthy berries. Whether you enjoy black raspberries for their great nutritional values or love their delicious flavor, you can now buy fresh frozen black raspberries online and have them shipped to the door.
Antioxidant (ORAC) Score 7,700 (uMTE/100g)
Polyphenols- 546 mg/100g
Anthocyanins- 517 mg/100ml
Health Benefits:
Black raspberries are extremely high in anthocyanins which are thought to help prevent many different diseases.
Studies at Ohio State University showed a 60–80 % reduction in colon tumors in rats fed a diet with black raspberries added.
Studies at Ohio State University showed an 80% reduction in esophageal cancers in mice fed a 5-10% diet of black raspberries.
Serving Suggestions:
Smoothies, juice, jams, pies, salads
---
FREE Shipping on orders over $125
Fresh Frozen Black Raspberries