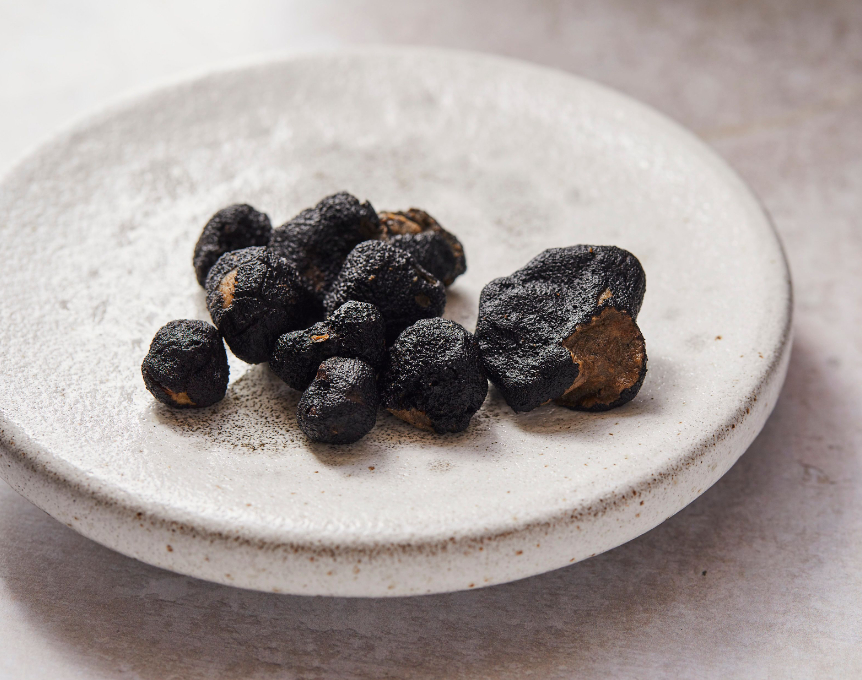 Fresh Frozen Wild Black Truffles
Try our Fresh Frozen Wild Black Truffles today!
This extremely hard to come by delicacy has a strong musky, earthy aroma that will turn any ordinary meal into a feast fit for royalty. Our black truffles, aka l
eucangium carthusianum,
grow wild in the Great Pacific Northwest and are every bit as delicious and aromatic as those found in Europe. They can be found all the way from BC Canada to Northern California and are often nestled in the needles and top soil around douglas firs. Truffles eaten by themselves may not taste so delightful, but they are so aromatic that just grating a little on top of a finished dish, be it a meaty dish, or a light dessert, will add a whole new flavor dimension that is heavily sought after all over the world. Foraging black truffles is arduous work. Hidden beneath the soil they are hard to see hence hard to find (which is probably why most people have probably never seen them). We have taken all the hard work out of sourcing what has become known as 'black gold', so you can have a taste of this true jewel of the food kingdom from the comfort of your own home. Shipped frozen straight to your door. Upon arrival, immediately place in freezer. Enjoy!
***MUST BE KEPT FROZEN. DO NOT THAW BEFORE USE. BEST WHEN SLICED, SHAVED OR GRATED WHILE STILL FROZEN.***
Health Benefits:
Wild black truffles are and excellent source of vitamin C which helps boost your immune system and keep you healthy.
A healthy source of minerals such as copper, magnesium, manganese and zinc, which are important for over all health and function.

An excellent source of calcium to help promote healthy bones.
Black truffles are a great source of iron which may help alleviate symptoms of anemia.
Truffles are a good source of potassium whose health benefits may

include relief from stroke, blood pressure, heart and kidney disorders, anxiety and stress, as well as enhanced muscle strength, metabolism, water balance, electrolytic functions, and nervous system.

As a great source of sodium, wild black truffles may help balance fluids in the body, and is needed for muscle contractions, so it is an important element for athletes.
---
FREE Shipping on orders over $125
Fresh Frozen Wild Black Truffles