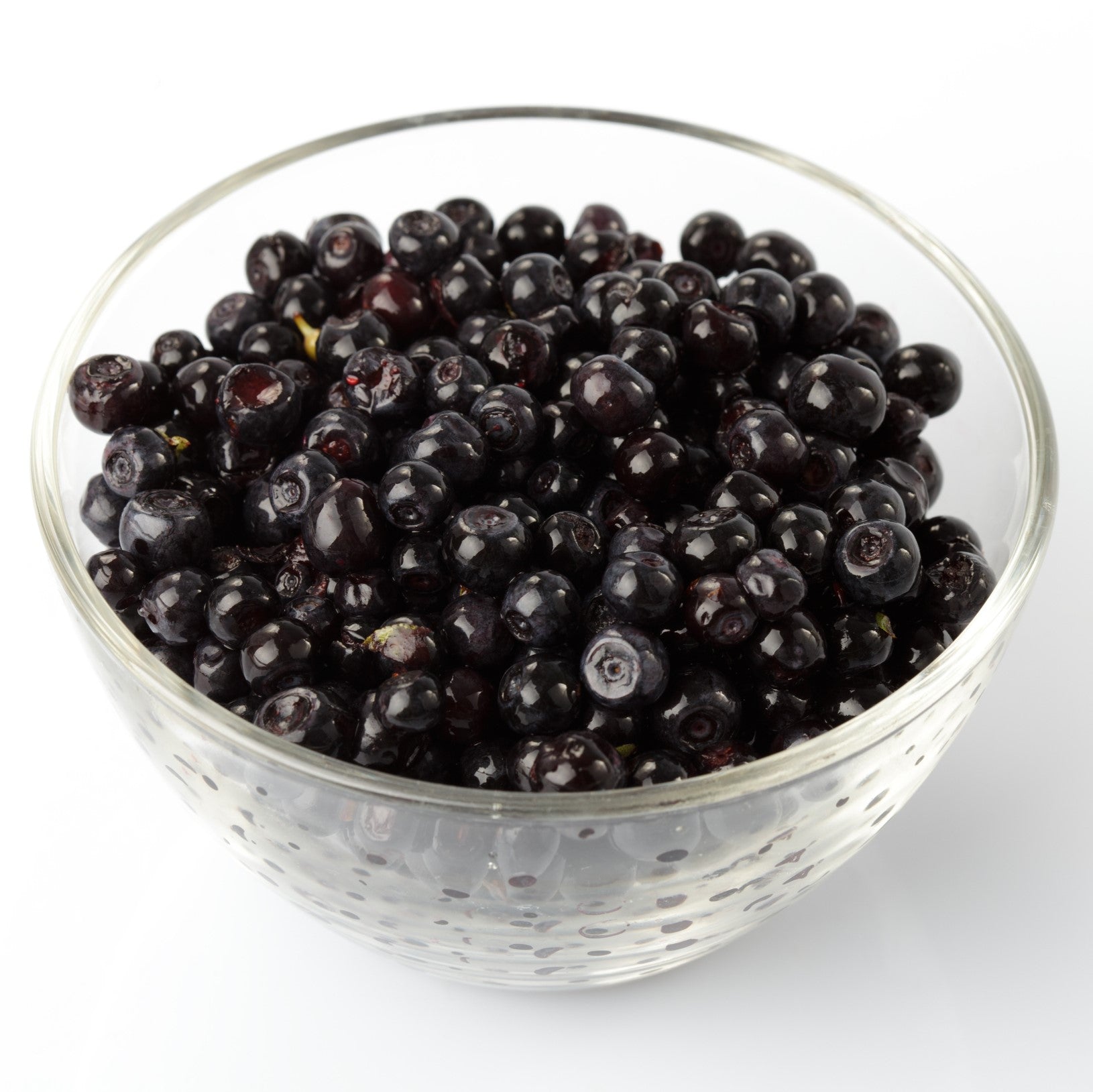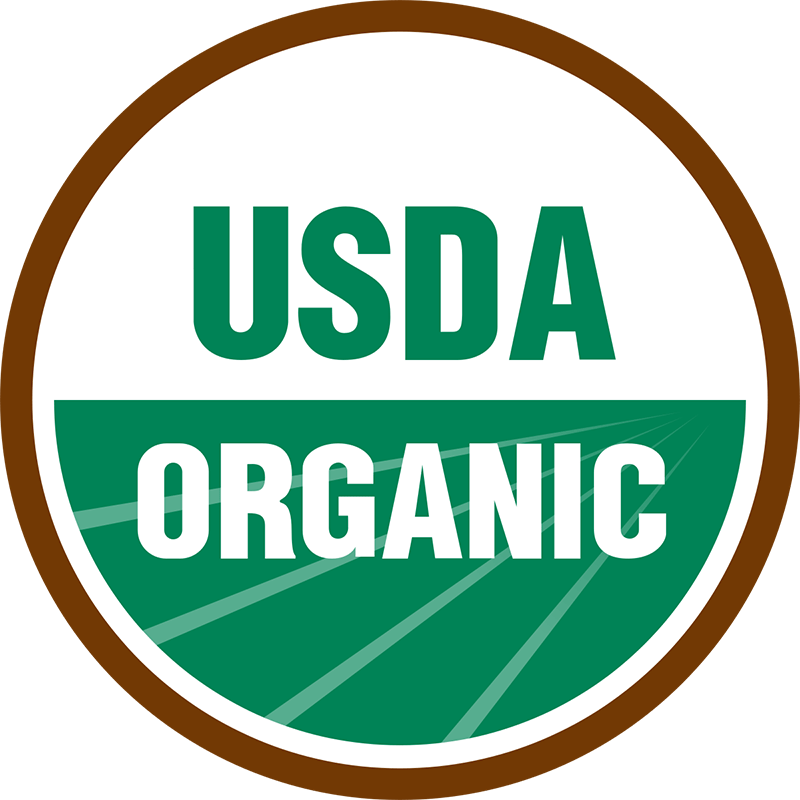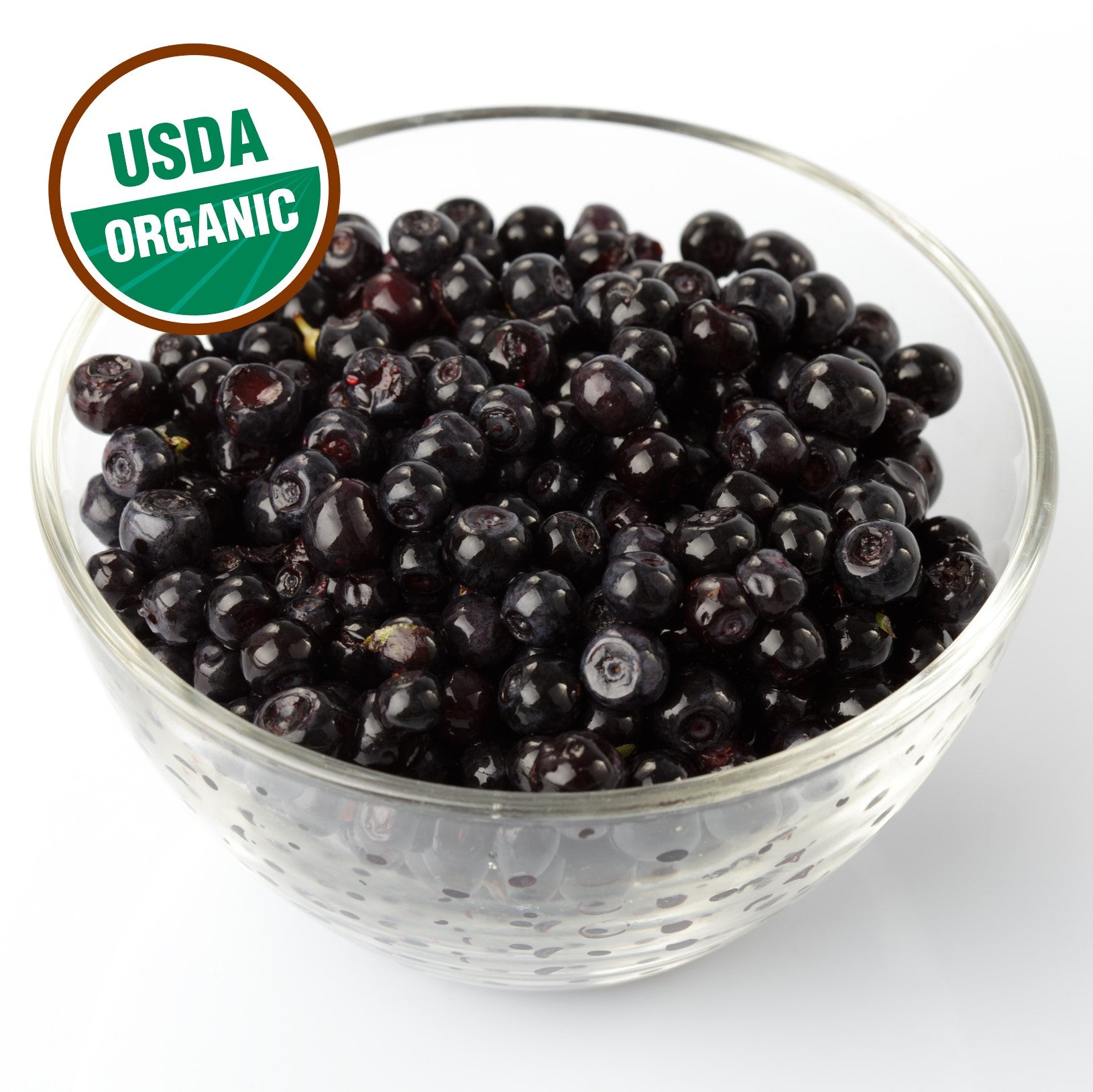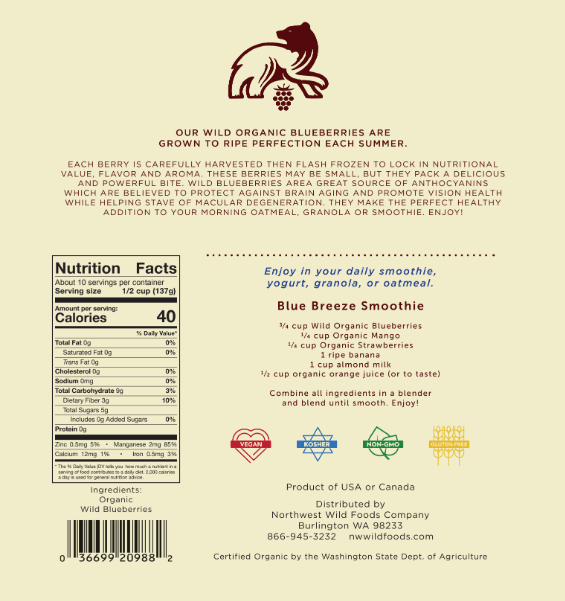 Fresh Frozen Wild Organic Blueberries
Try our Fresh Frozen Wild Organic Blueberries today!
Our wild organic blueberries are much smaller than your regular organic blueberries but don't let that fool you, what they lack in size they make up for in flavor and antioxidant power. These tiny gems pack over 2 times the antioxidants of regular blueberries. Our wild organic blueberries are grown organically and commercially cultivated from a heirloom strain of wild blueberry. Each berry is grown to ripe perfection then immediately hand harvested and frozen. This helps lock in nutritional value, flavor and aroma. Did you know the typical non-organic blueberry sometimes have up to 40 different pesticides sprayed on it? This makes going wild or organic a must for your health. These delicious blueberries are an excellent addition to your daily diet. They make a great snack straight out of the bag. We also recommend throwing some in your oatmeal, granola or smoothie. There really is no wrong way to enjoy these berries. Try our freshly frozen wild organic blueberries today! Shipped frozen straight to your door.
Health Benefits:
The anthocyanins found in blueberries help preserve vision and can slow vision loss.
Eating blueberries regularly helps promote memory retention and learning.
Blueberries can help with diarrhea and constipation issues.
Blueberries may help decreases risk of heart disease, diabetes and obesity.
Organic blueberries are known to help promote a healthy complexion and hair, increased energy, and overall lower weight.
Wild organic blueberries are an antioxidant rich super fruit and studies show may help prevent cancer-causing cell damage of the body.
Wild organic blueberries help protect the body and brain from oxidative stress and may reduce the effects of Alzheimer disease or dementia.
Blueberries also contain tannins, which act as astringents in the digestive system and help to reduce inflammation in the body.
Serving Suggestions:
Jam, jelly, pie, smoothies, baking or straight out of the bag!
Ingredients:
Raw fresh frozen wild organic blueberries -
Product of USA or Canada
---
FREE Shipping on orders over $125
Fresh Frozen Wild Organic Blueberries