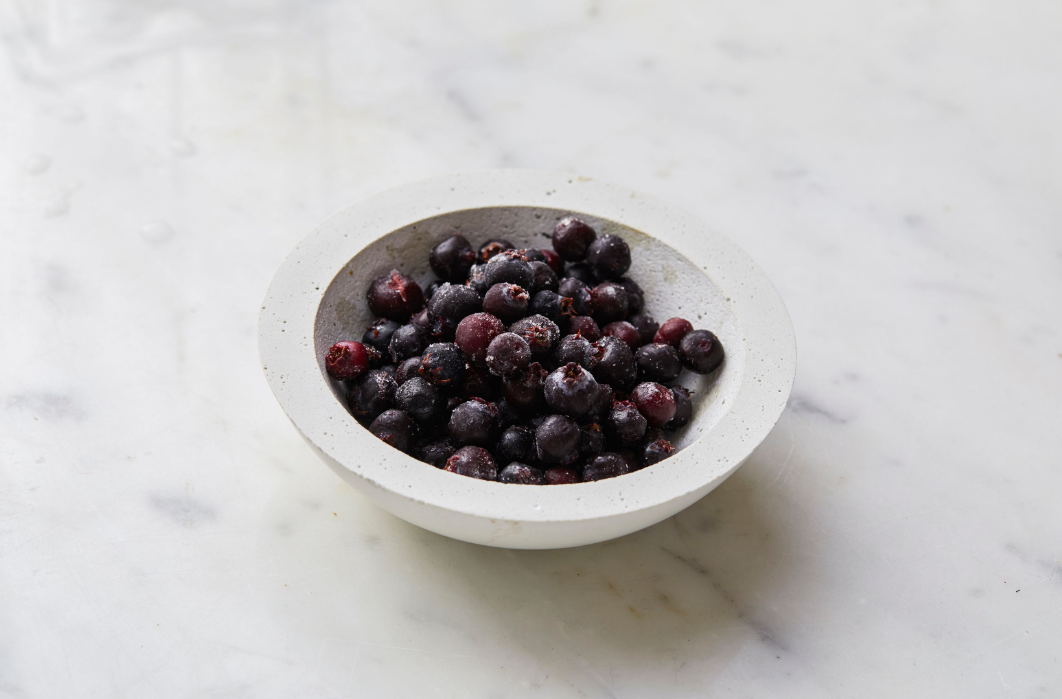 Fresh Frozen Saskatoon Berries
Try our Fresh Frozen Saskatoon Berries today!
Saskatoon Berries go by many names, juneberry, serviceberry and prairieberry to name a few. This little round berry grows on a deciduous shrub, and like one of it's numerous name suggests, it comes on in late June, early July. It is known to grow along the West Coast of North America all the way from Alaska to California. The Saskatoon Berry has a blackish-blue, purple hue and appears similar to a blueberry. However, the similarities stop there. Saskatoon's have a mildly sweet, full and wild flavor, with tiny seeds that add nutty almond tones (reminiscent of marzipan!). This berry is actually more closely related to an apple rather than a blueberry.
Traditionally Saskatoon's have been a daily dietary as well as medicinal staple for Native American and First Nation peoples. Its uses included everything from helping treat upset stomachs, to chest pains and lung infections. Modern science has also recognized the true benefits of this tasty berry. With high amounts of antioxidants and nutrients, as well as protein and fiber, the Saskatoon Berry is a healthy and delicious super food. Our Fresh Frozen Saskatoon Berries are carefully hand foraged, then same day flash frozen. This helps lock in flavor, aroma and essential nutrients. Shipped frozen straight to your door! Enjoy!
Health Benefits:
Saskatoon berries are an excellent source of fiber with 24% of your daily recommended amount in just 3/4 of a cup (2 times more than blueberries!) Fiber helps maintain bowel health as well as aiding in lowering cholesterol, controlling blood sugar levels and maintaining a healthy weight. And let's no forget that it also contributes to helping ward off heart disease.
Saskatoon berries are rich in anthocyanins which are a powerful antioxidant compound that are known to have anti-inflammatory and anti-carcinogenic activity, cardiovascular disease prevention, obesity control, and diabetes alleviation properties.
These delicious berries are also a great source of calcium. Saskatoon Berries are known to be an even better source of calcium than red meats, vegetables and cereals.
Another great health benefit of the Saskatoon berry is it's excellent manganese levels. Manganese is may help aid in weight loss, metabolism health and organ system efficiency. It also helps aid the body in vitamin absorption.

Saskatoon berries contain 4 times more Magnesium than Blueberries.
Saskatoon berries are also an excellent source of essential minerals including iron, potassium, and protein.
---
FREE Shipping on orders over $125
Fresh Frozen Saskatoon Berries