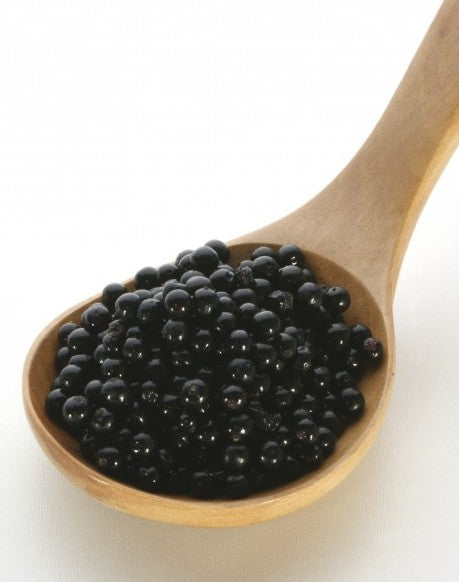 Fresh Frozen Wild Elderberries
Try our fresh frozen wild elderberries!
****CAUTION**** WE DO NOT RECOMMEND EATING THESE RAW. Some people may have a reaction to elderberries. To lessen the risk simply cook or bake them.

Our wild elderberries, also known as sambucus nigra, and are of the European variety. They are small, round black-blue berries which have a distinct sweet-tart flavor with a light earthy accent. When cooked, the berries become even more tasty and are hence ideal for processing into food and drink. Elderberries go extremely well in wines, jams, syrups and pies to name a few. As well as being an excellent, tasty addition to your regular diet, elderberries are also extremely good for your health. For centuries elderberries have been used in folk medicine from Europe and North America, to Western Asia and North Africa. As recently as 1995 elderberry juice was successfully used to treat a flu epidemic in Panama. As an excellent source of vitamins C, A and B, as well as quercetin, flavonoids, tannins, amino acids, and anthocyanins, elderberries possess powerful antioxidant properties which help aid in immune, eye, and heart health, as well as lowering cholesterol and treating flu, coughs, viral and bacterial infections. The health benefits are numerous and great. Our fresh frozen wild elderberries are hand harvested in Europe at peak ripeness, then same day flash frozen to lock in all the nutritional value, flavor and aroma for your taste bud pleasure.
Health Benefits:
Elderberries are an excellent source of Vitamin A which help aid in vision and immune health as well as cell growth.
Vitamin C present in elderberries help promote healthy skin, teeth, bones and immune health.
Elderberries are also an excellent source of Vitamin B6 which helps fight depression.
An excellent source of anthocyanins, elderberries are great for reducing sinus swelling and inflammation often associated with the flu or a cold.
Flavonoids found in elderberries have powerful antioxidant properties which may help prevent damage to the body's cells.
Elderberries are a great source of iron and potassium which help fight off anemia and lower blood pressure which in turn reduces the risk of stroke and heart disease.
Serving Suggestions: Syrup, Jams, jellies, pies, drinks.
Ingredients: 100% Raw Wild Elderberries
---
FREE Shipping on orders over $125
Fresh Frozen Wild Elderberries