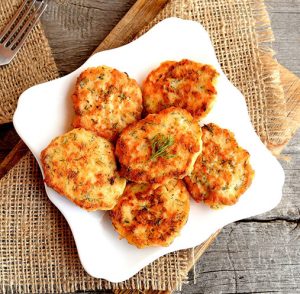 Ingredients:
1 lb NW Wild Foods salmon burger
2 teaspoons Dijon mustard
1/2 cup bread crumbs
Salt and black pepper to taste
2-3 drops Lemon juice
2-3 drops Worcestershire sauce
Optional
Chopped green onion
Chopped cilantro
Siracha
Directions:
1. Thaw salmon burger overnight in refrigerator in a medium bowl.
2. Mix all ingredients into medium bowl and shape into 3 or 4 burger patties.
3. Place olive oil in a 12-inch nonstick skillet, and turn the heat to medium-high. When the oil is hot, cook the burgers for 3-4 minutes a side, turning once. Alternatively, you can grill them: Let them firm up on the first side, grilling about 4 minutes, before turning over and finishing for just another minute or two. To check for doneness, make a small cut and peek inside. Be careful not to overcook. Serve on a bed of greens or on buns. We love it paired with an aioli sauce on the bun!