Butternut Squash & Pomegranate with Tahini Dressing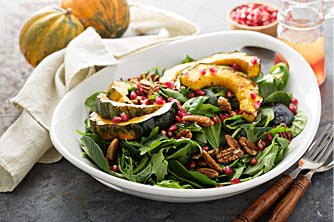 SERVES 4
1 SERVING SIZE: 1/2 CUP
INGREDIENTS:
3 cups peeled diced fresh butternut squash
1/2 teaspoon salt
1/2 teaspoon black pepper
4 teaspoons sesame tahini paste
1 tablespoon fresh lemon juice
1 tablespoon olive oil
1 tablespoon water
1 cup pomegranate arils
1 cup arugula
DIRECTIONS:
1. Preheat oven to 450 degrees.
2. Arrange butternut squash in a single layer on baking sheet and coat it with cooking spray. Season evenly with salt and pepper. Bake at 450 degrees for 20 min or until browned, stirring halfway through cooking.
3. Combine sesame tahini paste, lemon juice, olive oil, and water in a small bowl and whisk until smooth. Combine squash, pomegranate arils, and arugula in a bowl; toss gently to combine. Drizzle the sesame tahini mixture over squash, arugula, & pomegranate mixture.